s i t e - s p e c i f i c  a r t  P R O J E C T
c u r a t o r s :  d m i t r y  k u d i n o v  &  l i d i i a  a v e r i n a
Memorandum Project

- The flagship author's project of the supernova art embassy. The word 'memorandum' is translated from Latin as 'something you have to memorize', project is dedicated to complex contexts and topics. Sometimes it is painful to work with them, but they are worth remembering or being recalled from time to time. themes can be both global and local (unique to the location). 
The project can be described in these key terms: 
renewal
~

rebirth

~

rethinking

~

memory

~

legacy

~

authenticity

 
The project builds a contemporary dialogue of different parties, involves the study of the actual topic in a creative process, and has as its main goal the reflection of important moments from the lives of ordinary people.

M U R A L  A R T  F E S T I V A L
c u r a t o r :  d m i t r y  k u d i n o v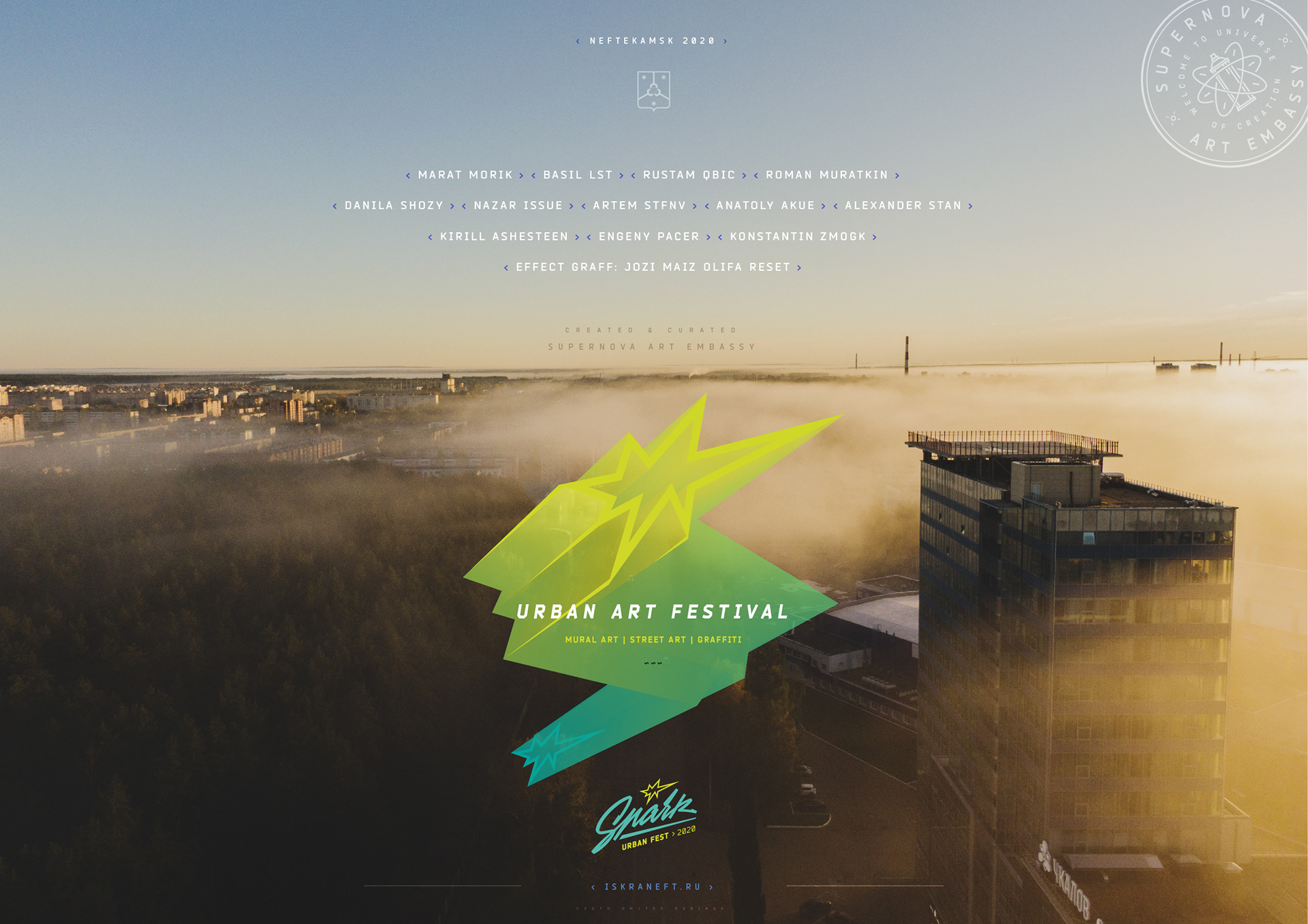 Currently, our priority is development of street art festival programs. Part of them was implemented during the

global lockdown in 2020

, under conditions of maximum restrictions. Except for preliminarily planned program, year 2020 has become a season of spontaneous, quickly organized creative projects on the run as reaction to uncertain environment. 
We develop authors' projects from scratch considering

local context

. On a starting stage we research and

reveal important triggers

, put together the meanings and build the

"tags cloud"

. This cloud becomes a foundation for creativity and further teamwork. 
Improvisation

is an important part of our projects; fieldwork allows

to feel the atmosphere

. Some (often especially important) decisions are made spontaneously during development of a project. During production, i. e. implementation of a project, such amendments are vitally necessary.

WORLD CUP EVENT ACTIVATIONS
c u r a t o r s :  d m i t r y  k u d i n o v  &  l i d i i a  a v e r i n a
P R E S E N T A T I O N  O F  P R O J E C T

M U R A L  A R T  F E S T I V A L
I D E O L O G I S T :  d m i t r y  k u d i n o v 
Like It. Art

 is the largest festival of street art in Europe (in time 2012) taking place in Russia. Concentration of the

best creative resources

of street art world for doing unique city objects of modern art and for development of the youth creative subcultures in the country.

Branding of Kazan

as a city focused on the creation and support of available art conditions.
In 2012 we accomplished our plans, it had become possible only with the

absolute confidence

of participants to us, we distinctly were aware of our mission and goals.

Feedback

from participants about the last event was the best indicator of our unprincipled working.